1856 - 1899
Jewish immigrants on their way to the United States at the end of the 19th century. Courtesy of the NYPL Digital Gallery.

By the 1850s the rapid urbanization throughout Williamsburg had made it a destination for earlier Irish and German immigrant groups that had settled in Manhattan. Population growth prompted the creation of public transit, which would be a precursor for the construction of the Williamsburg Bridge at the turn of the century. The bridge would open a new gateway for many of the Eastern European immigrants still living in the crowded Lower East Side.
---
Powered by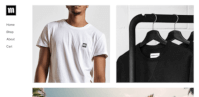 Create your own unique website with customizable templates.